---
The land known as North America, or Turtle Island, is home to more than 1,100 Indigenous Nations. November, Native American Heritage Month, is the perfect time to learn more. The land upon which the three Naperville Public Library buildings stand is the occupied, unceded ancestral territory of the Kiikaapoi (Kickapoo), Peoria, Kaskaskia, Bodéwadmiké (Potawatomi), Myaamia, and Očhéthi Šakówiŋ Nations. Naperville Public Library believes that truth and acknowledgement are critical to building mutual respect and connection across all barriers and therefore recognizes the forced removal of these Native Nations and their ensuing struggles for survival and identity. Please take a moment to consider the violence, displacement, migration, colonization, and settlement that have happened on this land and neighboring lands as well as our present participation in these legacies.
Click on each section below to browse our recommendations. Each title is available through one (or more) of the Naperville Public Library's digital resources.
My heart fills with happiness
Monique Gray Smith
International speaker and award-winning author Monique Gray Smith wrote My Heart Fills with Happiness to support the wellness of Indigenous children and families, and to encourage young children to reflect on what makes them happy.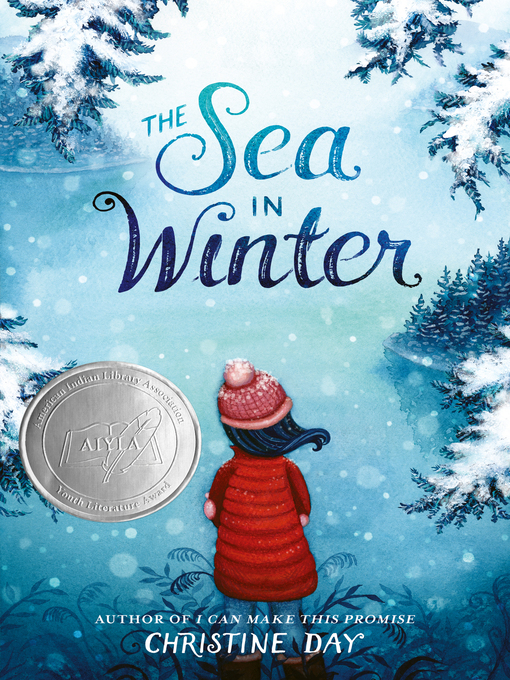 The Sea in the Winter
Christine Day
After an injury sidelines her dreams of becoming a ballet star, Maisie is not excited for her blended family's midwinter road trip along the coast, near the Makah community where her mother grew up.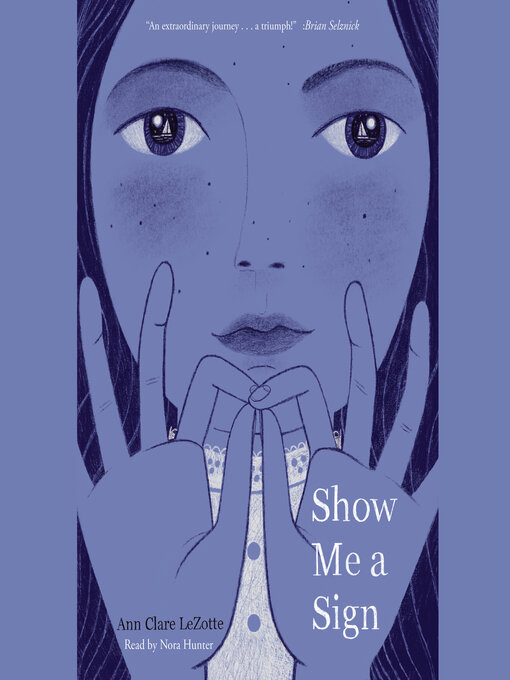 Show Me A Sign
Ann Clare LeZotte
It is 1805 and Mary Lambert has always felt safe among the deaf community of Chilmark on Martha's Vineyard where practically everyone communicates in a shared sign language, but recent events have shattered her life; her brother George has died, land disputes between English settlers and the Wampanoag people are becoming increasingly bitter, and a ""scientist"" determined to discover the origins of the islands' widespread deafness has decided she makes the perfect ""live specimen""--and kidnapped her.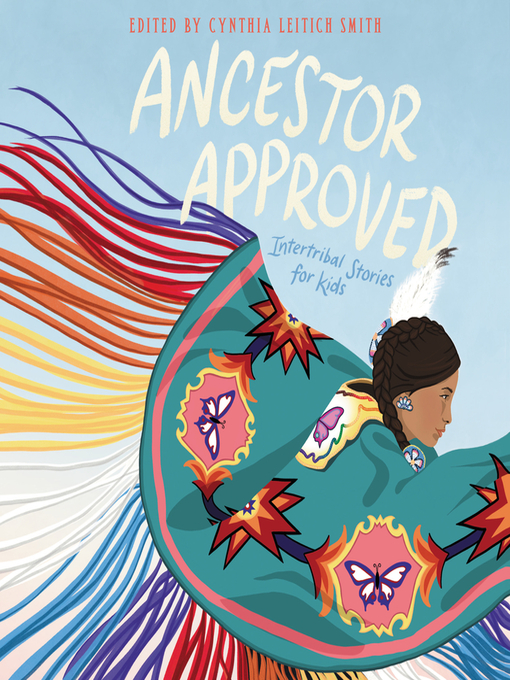 Ancestor Approved: intertribal stories for kids
Cynthia Leitich Smith
A volume of interconnected stories and poems set at a Native American Dance for Mother Earth Powwow celebration in Ann Arbor, Michigan, includes contributions by such new and veteran writers as Joseph Bruchac, Dawn Quigley, and Traci Sorell.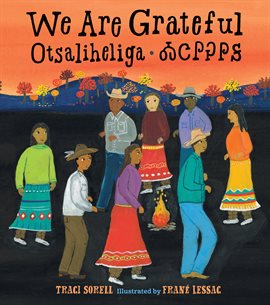 We are grateful
Traci Sorell
Otsaliheliga is a Cherokee word that is used to express gratitude. Journey through the year with a Cherokee family and their tribal nation as they express thanks for celebrations big and small. A look at modern Native American life as told by a citizen of the Cherokee Nation.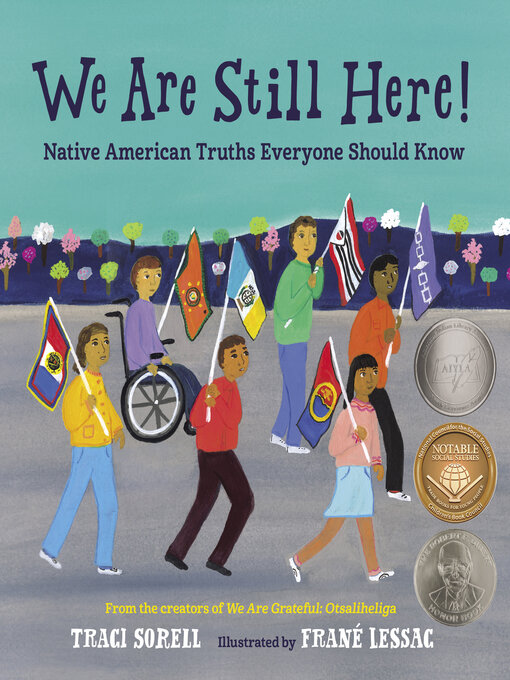 We are still here
Traci Sorell
A group of Native American kids from different tribes presents twelve historical and contemporary time periods, struggles, and victories to their classmates, each ending with a powerful refrain: we are still here.
I sang you down from the stars
Michaela Goade
A Native American woman describes how she loved her child before it was born and, throughout her pregnancy, gathered a bundle of gifts to welcome the newborn.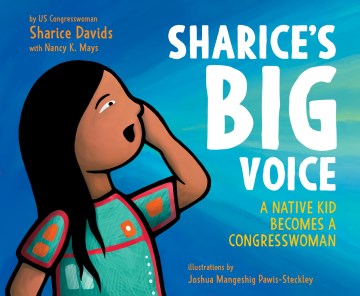 Sharice's Big Voice: native kid becomes a congresswoman
Sharice Davids with Nancy K. Mays
Rich, vivid illustrations by Ojibwe Woodland artist Pawis-Steckley are delivered in a graphic style that honors Indigenous people. The bold artwork adds impact to the compelling text. (Kirkus starred review) The prose is reminiscent of an inspirational speech (""Everyone's path looks different""), with a message of service that includes fun biographical facts, such as her love of Bruce Lee. Pawis-Steckley (who is Ojibwe Woodland) contributes boldly lined and colored digital illustrations, inflected with Native symbols and bold colors. A hopeful and accessible picture book profile. (Publishers Weekly) This picture book autobiography tells the triumphant story of Sharice Davids, one of the first Native American women elected to Congress, and the first LGBTQ congressperson to represent Kansas. When Sharice Davids was young, she never thought she'd be in Congress. And she never thought she'd be one of the first Native American women in Congress. During her campaign, she heard from a lot of doubters. They said she couldn't win because of how she looked, who she loved, and where she came from. But here's the thing: Everyone's path looks different and everyone's path has obstacles. And this is the remarkable story of Sharice Davids' path to Congress. Beautifully illustrated by Joshua Mangeshig Pawis-Steckley, an Ojibwe Woodland artist, this powerful autobiographical picture book teaches readers to use their big voice and that everyone deserves to be seen--and heard! The back matter includes information about the Ho-Chunk written by former Ho-Chunk President Jon Greendeer, an artist note, and an inspiring letter to children from Sharice Davids.
Fall in line, holden
Daniel W. Vandever
At a very strict school in Indigenous Nation, everyone but Holden stays in line until they reach the door at the end of the school day.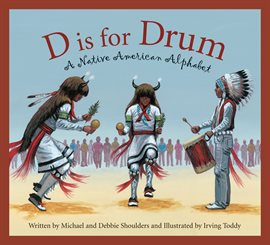 D is for Drum
Michael and Debbie Shoulders
Readers get an A-Z introduction to the customs and cultures of the first people inhabiting the Americas. Topics include Bison, teepees, Kachinas, and dugout canoes inhabiting the Americas.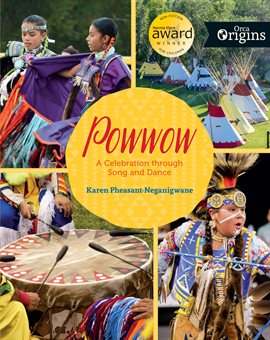 Powwow: a celebration through song and dance
Karen Phesant-Neganigwane
Part of the nonfiction Orca Origins series for middle readers. Illustrated with photographs, Powwow is a guide to the dance, music and culture of this Indigenous celebration.
History Kids. Native Americans of the Northeast
Wonderscape Entertainment
Learn all about the Native Americans of the Northeast. What were the major Native-American tribes of the Northeast? What types of clothing did they wear and why? Explore the fascinating culture, lifestyle and history of the Iroquois, Pequot and Shawnee. On-screen, multiple-choice reviews at the end of each segment that reinforce important concepts and make learning fun.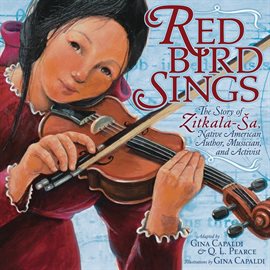 Red Bird Sings
Gina Capaldi & Q. L. Pearce
The coauthors tell Zitkala-Ša's life by weaving together pieces from her own stories. The artist's acrylic illustrations and collages of photos and primary source documents round out the vivid portrait of Zitkala-Ša, a frightened child whose spirit "would rise again, stronger and wiser for the wounds it had suffered.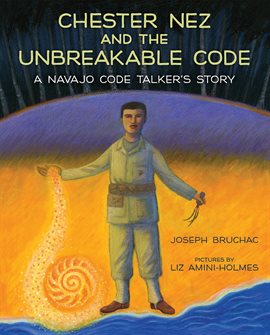 Chester Nez and the unbreakable Code: A Navajo Code talker's Story
Joseph Bruchac
As a boy, Chester Nez was taught his native language and culture were useless, but he was later called on to use his Navajo language to help create an unbreakable military code during WWII.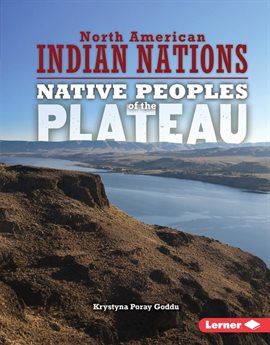 North American Indian Nations Series
Multiple Authors
Explore the history, culture, and modern-day lifestyles of American Indians living in ten distinct geographic regions of North America. Readers will evaluate the similarities and differences between the Indian nations and make connections as to how geography affected their past and continues to influence their present. These books clarify how each Indian nation is unique, with their own identities and traditions, while examining how the groups interacted and related with each other.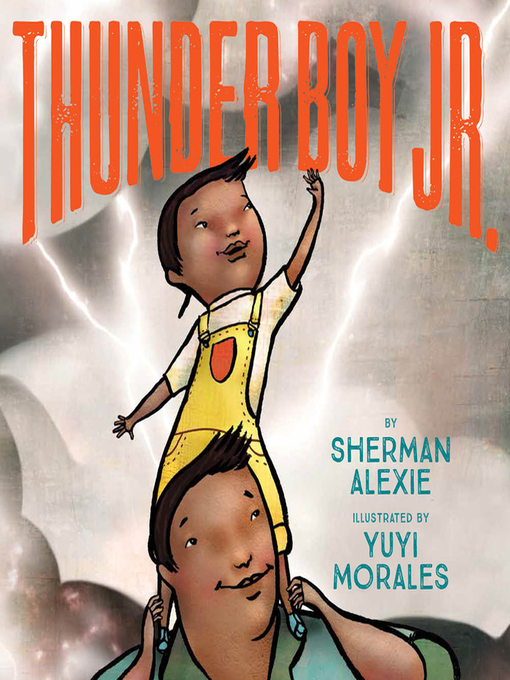 Thunder boy Jr
Sherman Alexie
Thunder Boy Jr. wants a normal name...one that's all his own. Dad is known as Big Thunder, but Little Thunder doesn't want to share a name.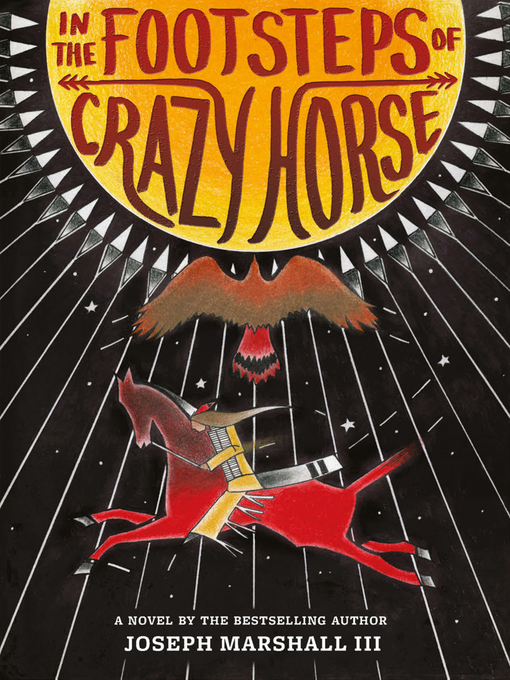 In the footsteps of Crazy Horse
Joseph Marshall III
Teased for his fair coloring, eleven-year-old Jimmy McClean travels with his maternal grandfather, Nyles High Eagle, to learn about his Lakota heritage while visiting places significant in the life of Crazy Horse, the nineteenth-century Lakota leader and warrior, in a tale that weaves the past with the present. Includes historical note and glossary.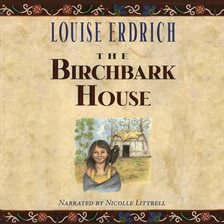 Birchbark House
Lousie Erdrich
Omakayas, a seven-year-old Native American girl of the Ojibwa tribe, lives through the joys of summer and the perils of winter on an island in Lake Superior in 1847.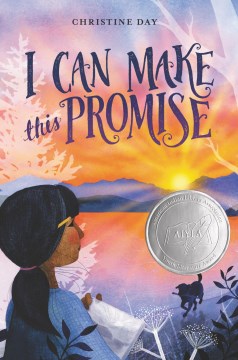 I can Make this Promise
Christina Day
When twelve-year-old Edie finds letters and photographs in her attic that change everything she thought she knew about her Native American mother's adoption, she realizes she has a lot to learn about her family's history and her own identity.
How I became a Ghost: A Choctaw Trail of Tears of Story
Tim Tingle
A Choctaw boy tells the story of his tribe's removal from the only land its people had ever known, and how their journey to Oklahoma led him to become a ghost--one with the ability to help those he left behind.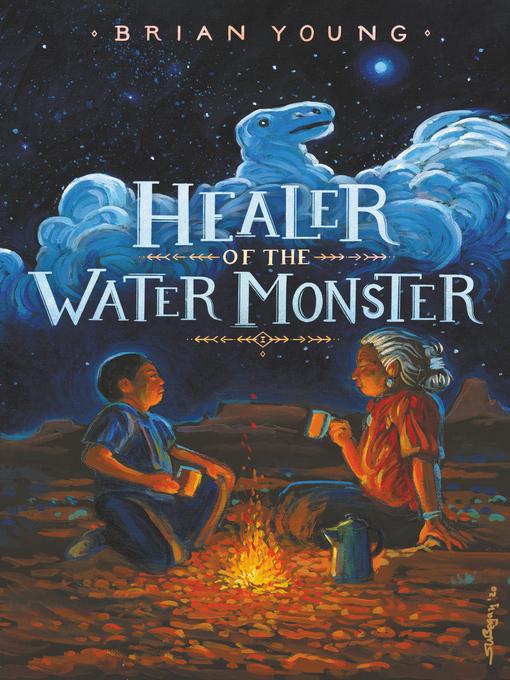 Healer of the Water Monster
Brian Young
A novel inspired by Navajo culture follows the experiences of a boy whose summer at his grandmother's reservation home is shaped by his uncle's addictions and an encounter with a sacred being from the Navajo creation story.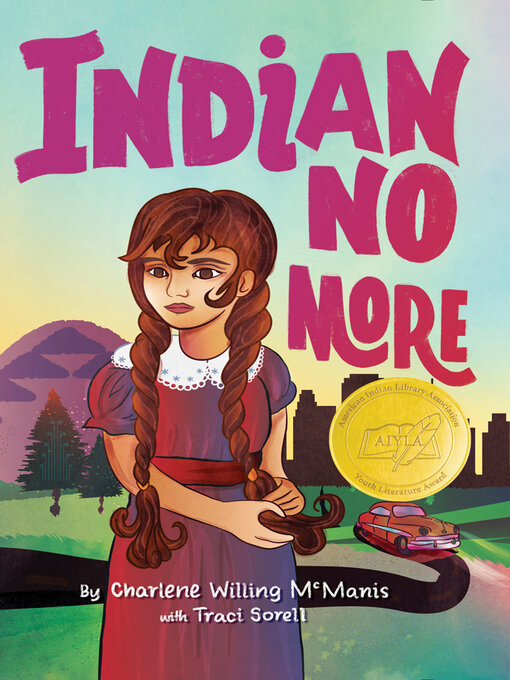 Indian No More
Charlene Willing McManis with Traci Sorell
When Regina's Umpqua tribe is legally terminated and her family must relocate from Oregon to Los Angeles, she goes on a quest to understand her identity as an Indian despite being so far from home.
Rabbit's Snow Dance: A traditional Iroquois Story
James & Jospeh Bruchac
Rabbit loves the winter. He knows a dance, using a traditional Iroquois drum and song, to make it snow--even in springtime! The other animals of the forest don't want early snow, but Rabbit doesn't listen to them. Instead, he sings and dances until more and more snow falls. But how much snow is too much, and will Rabbit know when to stop? A modern take on a traditional Native American fable.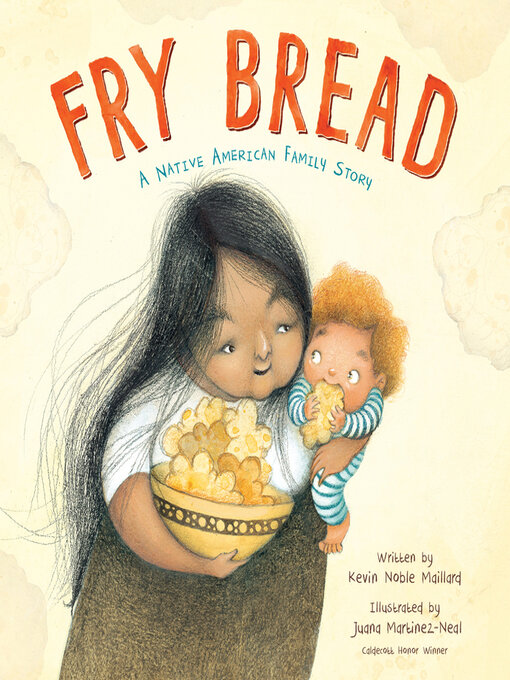 Fry Bread
Kevin Noble Maillard
Celebrates the Native American tradition of sharing fry bread during family meals, in a story about family, history, culture, and traditions, both new and old.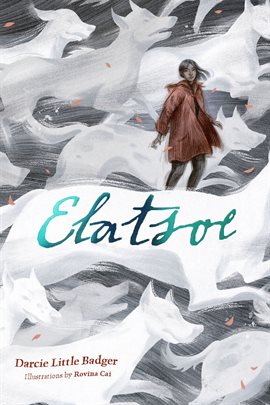 Elatsoe
Darcie Little Badger
Elatsoe (Ellie for short) lives in an alternate contemporary America shaped by the ancestral magics and knowledge of its Indigenous and immigrant groups. She can raise the spirits of dead animals & most importantly, her ghost dog Kirby. When her beloved cousin dies, all signs point to a car crash, but his ghost tells her otherwise: He was murdered. Who killed him and how did he die? With the help of her family, her best friend Jay, and the memory great, great, great, great, great, great grandmother, Elatsoe, must track down the killer and unravel the mystery of this creepy town and its dark past. But will the nefarious townsfolk and a mysterious Doctor stop her before she gets started?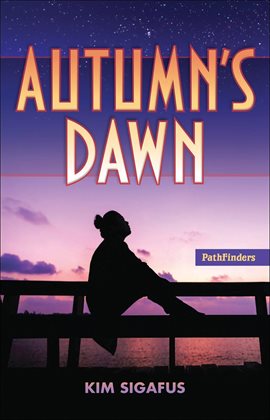 Autumn's dawn
Kim Sigafus
A Native girl struggles with becoming who she thinks she should be and accepting who she really is.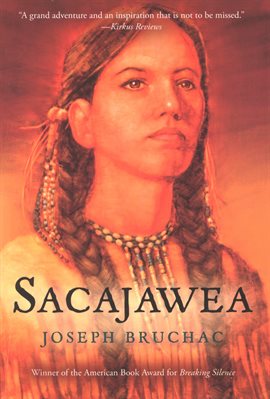 Sacajawea
Joseph Bruchac
Captured by her enemies, married to a foreigner, and a mother at age sixteen, Sacajawea lived a life of turmoil and change. Then in 1804, the mysterious young Shoshone woman known as Bird Woman met Meriwether Lewis and William Clark. Acting as interpreter, peacemaker, and guide, Sacajawea bravely embarked on an epic journey that altered history forever.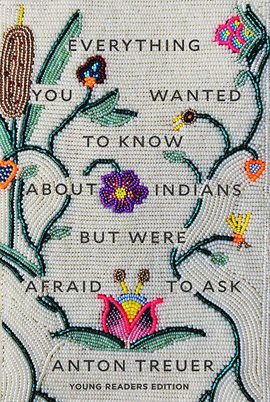 Everything You Wanted to Know About Indians but Were Afraid to Ask
Anton Treuer
From the acclaimed Ojibwe author and professor Anton Treuer comes an essential book of questions and answers for Native and non-Native young readers alike. Ranging from "Why is there such a fuss about nonnative people wearing Indian costumes for Halloween?" to "Why is it called a 'traditional Indian fry bread taco'?" to "What's it like for natives who don't look native?" to "Why are Indians so often imagined rather than understood?", and beyond, Everything You Wanted to Know About Indians But Were Afraid to Ask (Young Readers Edition) does exactly what its title says for young readers, in a style consistently thoughtful, personal, and engaging.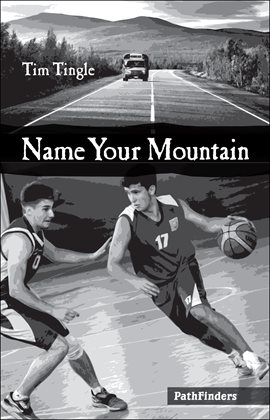 Name Your Mountain
Tim Tingle
Everything is looking great for Bobby Byington and his friend Cherokee Johnny as their high school basketball team prepares for an important game. But, just when things seem to be going really well, someone tries to take the life of Cherokee Johnny's father. Bobby is determined to help his friend's family but feels useless until he gets some ingenious ideas that can aid the police. When the night of the big game arrives, Johnny and his family are allowed out of hiding so he can play. The action on the court provides a riveting backdrop for the suspense-filled adventure.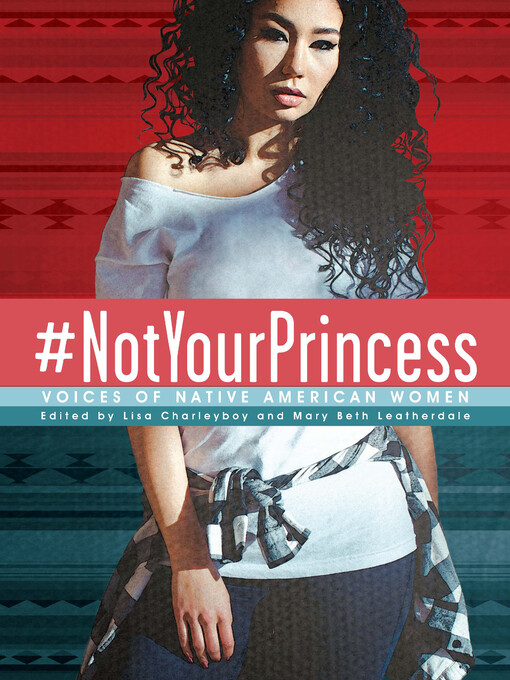 #notyourprincess
Mary Beth Leatherdale
A collection of poems, essays, interviews, and art exhibit the voices of Indigenous women across North America.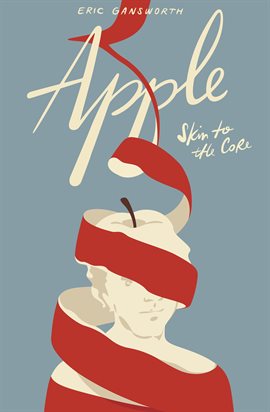 Apple: Skin to the Core
Eric Gansworth
The term "Apple" is a slur in Native communities across the country. It's for someone supposedly ""red on the outside, white on the inside."" In APPLE (SKIN TO THE CORE), Eric Gansworth tells his story, the story of his family'of Onondaga among Tuscaroras'of Native folks everywhere. From the horrible legacy of the government boarding schools, to a boy watching his siblings leave and return and leave again, to a young man fighting to be an artist who balances multiple worlds.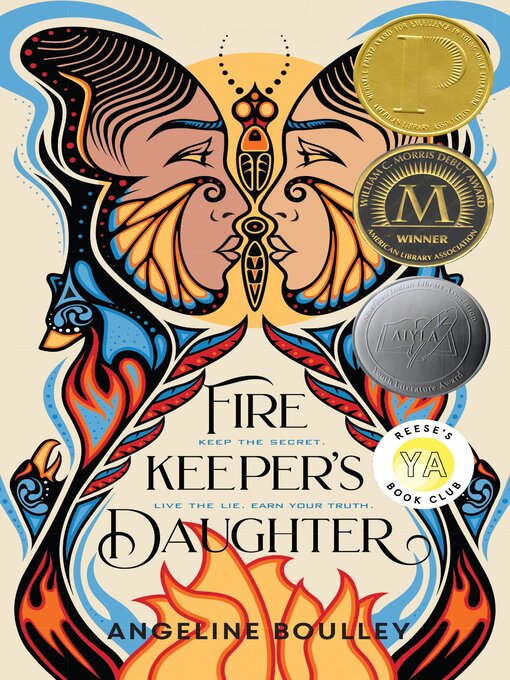 Firekeeper's Daughter
Angeline Boulley
Daunis, who is part Ojibwe, defers attending the University of Michigan to care for her mother and reluctantly becomes involved in the investigation of a series of drug-related deaths.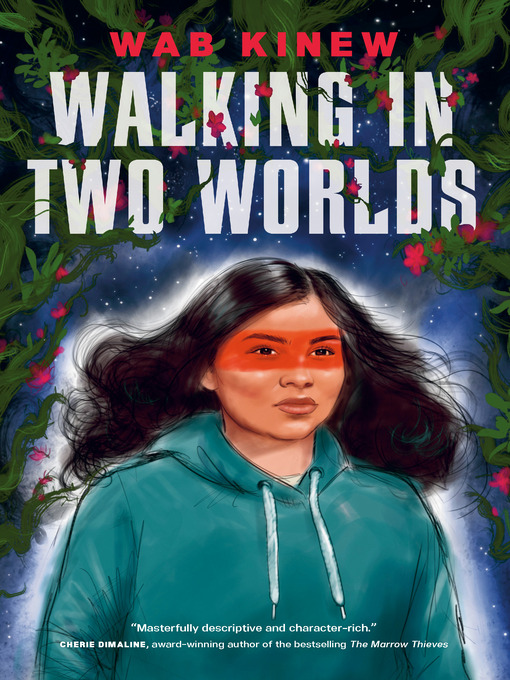 Walking in Two Worlds
Wab Kinew
When Bugz, who is caught between the worlds of life on the Rez and the virtual world, meets Feng, they form an instant bond as outsiders and gamers and must both grapple with the impact of family challenges and community trauma.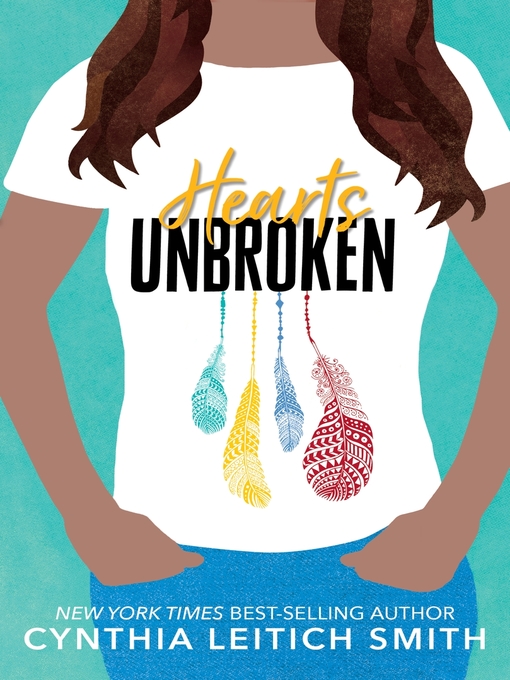 Hearts Unbroken
Cynthia Leitich Smith
Breaking up with her first real boyfriend when he makes racist remarks about her Native American heritage, high school senior Louise Wolfe teams up with a fellow school newspaper editor to cover a multicultural casting of the school play and the racial hostilities it has exposed.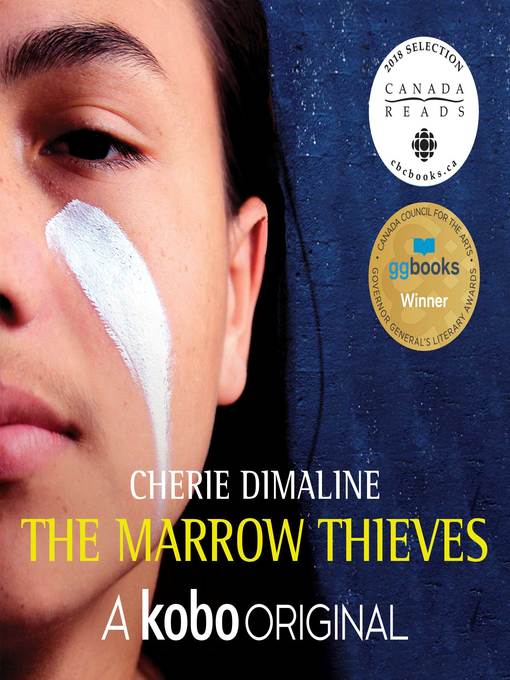 The Marrow Thieves
Cherie Dimaline
In a world where most people have lost the ability to dream, a fifteen-year-old Indigenous boy who is still able to dream struggles for survival against an army of "recruiters" who seek to steal his marrow and return dreams to the rest of the world.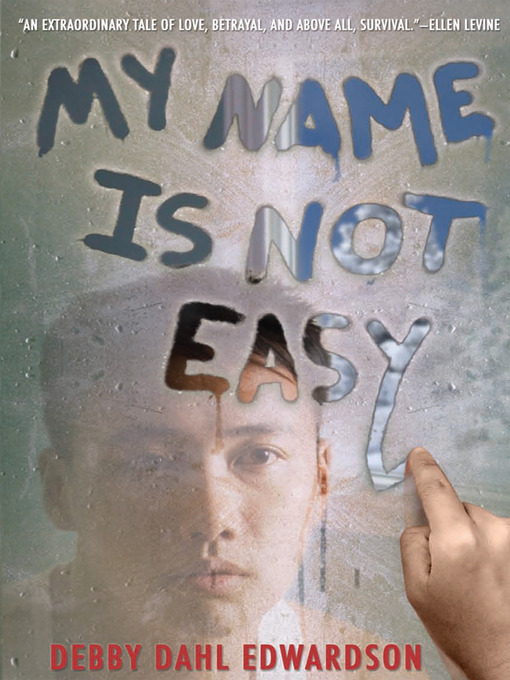 My name is not easy
Debby Dahl Edwardson
Alaskans Luke, Chickie, Sonny, Donna, and Amiq relate their experiences in the early 1960s when they are forced to attend a Catholic boarding school where, despite different tribal affiliations, they come to find a sort of family and home.
Fire Song
Adam Garnet Jones
Fire Song tells about the struggles of two Indigenous gay teenagers trying to find their place in the world.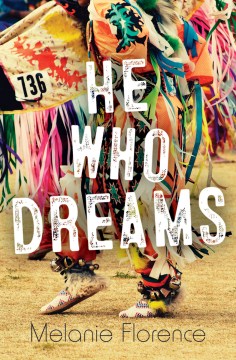 He Who Dreams
Melanie Florence
When John discovers dancing, he finds himself facing ridicule from his soccer teammates and hostility from the dancers at the cultural center. To dance at the Pow Wow, he must learn to balance his responsibilities, confront his fears and embrace both the Irish and the Cree sides of his heritage.
I will See You Again
Lisa Boivin
When the author learns of the death of her brother overseas, she embarks on a journey to bring him home. Through memories and dreams of all they shared together and through her Dene traditions, she finds comfort and strength. The lyrical art and story leave readers with a universal message of hope and love.
Standing Strong
Gary Robinson
After a failed suicide attempt, seventeen-year-old Rhonda Runningcrane is inspired to help a crew protesting against an oil company running a pipeline through sacred Native land in North Dakota.
Surviving the City
Tasha Spillett
A contemporary graphic novel about Indigenous young women facing heart-wrenching decisions and the anguish of missing loved ones.
Apple in the Middle
Dawn Quigley
This coming-of-age debut tackles what it means to belong. Apple is quirky, blurts things out to classmates, pretends to be a foreign exchange student, and feels responsible for her mother's death. She is Native, living with her nonindigenous family. Her dad and stepmom decide to send her to Turtle Mountain Chippewa Reservation to stay with her grandparents, strangers to her, over the summer.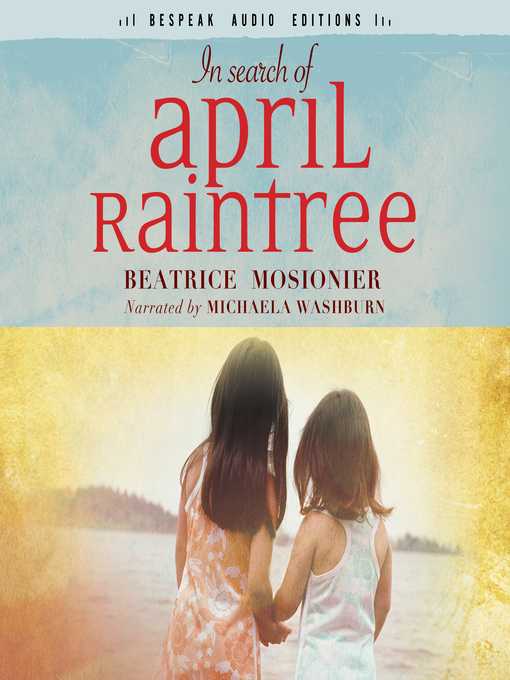 In Search of April Raintree
Beatrice Mosionier
Two young sisters are taken from their home and family. Powerless to change their fortunes, they are separated, and each put into different foster homes. Yet over the years, the bond between them grows. As they each make their way in a society that is, at times, indifferent, hostile, and violent, one embraces her Métis identity, while the other tries to leave it behind. In the end, out of tragedy, comes an unexpected legacy of triumph and reclamation.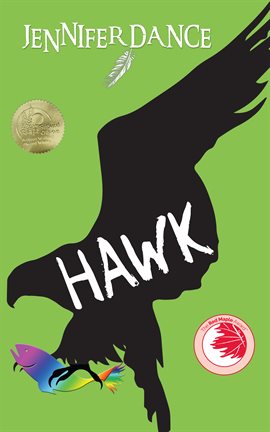 Hawk
Jennifer Dance
When a First Nations teen rescues a fish-hawk from a tailings pond in Alberta's oil sands, he has no idea that soon they will both be fighting for their lives. As a cross-country runner, Adam aims to win gold in the upcoming provincial championship. But when he is diagnosed with leukemia, he finds himself in a different race, one that he can't afford to lose. He reclaims the name Hawk, given to him by his grandfather, and begins to fight, for his life and for the land of his ancestors and the creatures that inhabit it. With a little help from his grandfather and his friends, he might just succeed.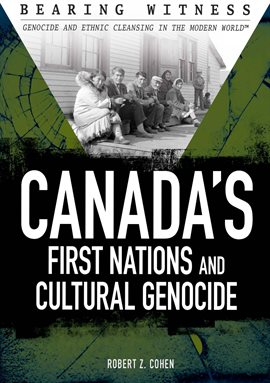 Canada's First Nations & Cultural Genocide
Robert Z. Cohen
For more than 100 years, Canada's First Nations, Inuit's, and Metis people endured an educational system designed to essentially remove all evidence of their native identities. Children were mistreated and stripped of their identities, as they were "educated" in the ways of a nation that wanted no trace of the "Indian." This insightful resource provides a history of Canada and outlines the development of attitudes that resulted in the residential education system, as well as a glimpse into the experiences of children who made it through. Readers will also learn about efforts to help a nation continue to heal.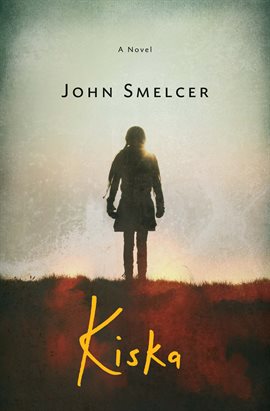 Kiska
John Smelcer
Kiska's home in the Aleutian Islands is a peaceful paradise until Japan invades in 1942. Soon after, a U.S. naval ship arrives to evacuate everyone in her village to an internment camp almost 2,000 miles away-where they are forgotten. Informed by true events, this is the story of a teenage girl who steps up when her people need a hero.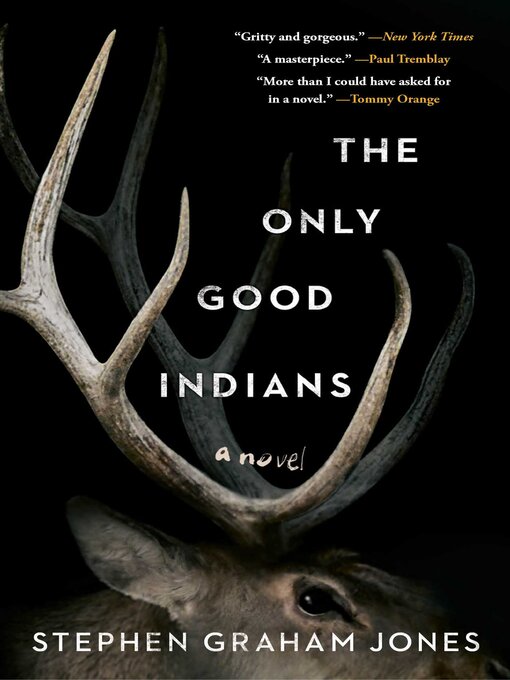 The Only Good Indians
Stephen Graham Jones
Peter Straub's Ghost Story meets Liane Moriarty's Big Little Lies in this American Indian horror story of revenge on the Blackfeet Indian Reservation. Four American Indian men from the Blackfeet Nation, who were childhood friends, find themselves in a desperate struggle for their lives, against an entity that wants to exact revenge upon them for what they did during an elk hunt ten years earlier by killing them, their families, and friends.
Indian Horse : a novel
Richard Wagamese
Saul Indian Horse, an Ojibway boy, is torn from his family and committed to a residential school. At the school, Saul is denied the freedom to speak his language or embrace his heritage and is a witness to abuse by the people sworn to protect him. But Saul finds salvation in the unlikeliest of places, the rink. His incredible hockey talents lead him away from the school to bigger and better opportunities, but no matter how far Saul goes, the ghosts of his past are always close behind.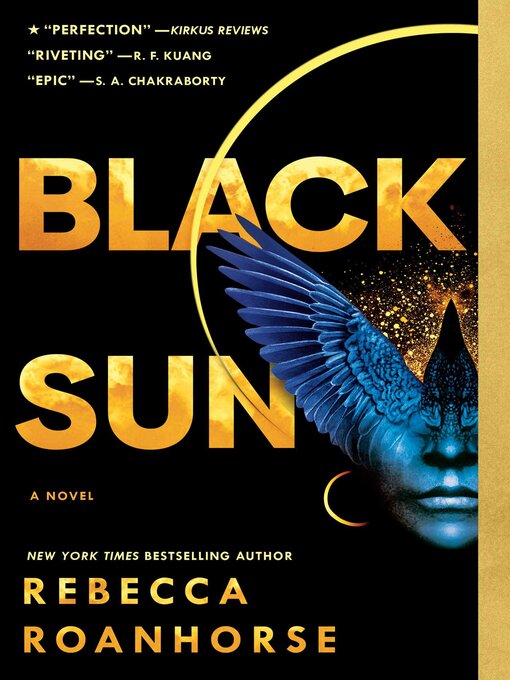 Black Sun
Rebecca Roanhorse
From the New York Times bestselling author of Star Wars: Resistance Reborn comes the first book in the Between Earth and Sky trilogy, inspired by the civilizations of the Pre-Columbian Americas and woven into a tale of celestial prophecies, political intrigue, and forbidden magic. A god will return When the earth and sky converge Under the black sun In the holy city of Tova, the winter solstice is usually a time for celebration and renewal, but this year it coincides with a solar eclipse, a rare celestial event proscribed by the Sun Priest as an unbalancing of the world. Meanwhile, a ship launches from a distant city bound for Tova and set to arrive on the solstice. The captain of the ship, Xiala, is a disgraced Teek whose song can calm the waters around her as easily as it can warp a man's mind. Her ship carries one passenger. Described as harmless, the passenger, Serapio, is a young man, blind, scarred, and cloaked in destiny. As Xiala well knows, when a man is described as harmless, he usually ends up being a villain. Crafted with unforgettable characters, Rebecca Roanhorse has created an epic adventure exploring the decadence of power amidst the weight of history and the struggle of individuals swimming against the confines of society and their broken pasts in the most original series debut of the decade.
When the light of the world was subdued, our songs came through: a Norton anthology of Native nations poetry
Joy Harjo, LeAnne Howe, Jennifer Elise Foerster
United States Poet Laureate Joy Harjo gathers the work of more than 160 poets, representing nearly 100 indigenous nations, into the first historically comprehensive Native poetry anthology. This landmark anthology celebrates the indigenous peoples of North America, the first poets of this country, whose literary traditions stretch back centuries. Opening with a blessing from Pulitzer Prize-winner N. Scott Momaday, the book contains powerful introductions from contributing editors who represent the five geographically organized sections. Each section begins with a poem from traditional oral literatures and closes with emerging poets, ranging from Eleazar, a seventeenth-century Native student at Harvard, to Jake Skeets, a young Diné poet born in 1991, and including renowned writers such as Luci Tapahanso, Natalie Diaz, Layli Long Soldier, and Ray Young Bear. When the Light of the World Was Subdued, Our Songs Came Through offers the extraordinary sweep of Native literature, without which no study of American poetry is complete.
Young Lakota
Heather Rae
In this award-winning documentary, Cecilia Fire Thunder- the first female President of the Oglala Sioux tribe, defies a proposed South Dakota law criminalizing all abortions, with no exceptions for rape or incest, by threatening to build a women's clinic on the sovereign territory of the reservation. She ignites a political firestorm that sets off a chain reaction in the lives of three young Lakotas on the Pine Ridge Reservation, forcing each of them to make choices that define who they are and the kind of adults they will become.
More Than a Word
John Little, Kenn Little
An exploration of Native American-based mascots, especially the Washington R_dskins, and their impact on real-life attitudes, issues, and policies. Through interviews with scholars, tribal leaders, lawyers, policy experts, activists, and Washington R_dskins fans, the film explores the history of the slanderous term "redskin," and delves into cultural stereotypes of Native Americans and their relationship to history. Ultimately, the film argues for representations that honor and celebrate the humanity of Indigenous people.
By Blood
Marcos Barbery
A chronicle of American Indians of African descent battling to regain their tribal citizenship. BY BLOOD explores the impact of this battle, which has manifested into a broader conflict about race, identity, and the sovereign rights of indigenous people.
Racing the Rez
Brian Truglio
In the rugged canyon lands of Northern Arizona, Navajo and Hopi cross-country runners from two rival high schools put it all on the line for tribal pride, triumph over personal adversity, and state championship glory. Win or lose, what they learn in the course of their seasons, will have a dramatic effect on the rest of their lives.
Ohero: Kon - Under the Husk
Katsitsionni Fox
This documentary follows two Mohawk girls on their journey to become Mohawk women. Friends since childhood, Kaienkwinehtha and Kasennakohe are members of the traditional community of Akwesasne on the U.S./Canada border.. Together, they undertake a four-year rite of passage for adolescents, called Oheró:kon, or "under the husk." The ceremony had been nearly extinct, a casualty of colonialism and intergenerational trauma; revived in the past decade by two traditional leaders, it has since flourished. Filmmaker Katsitsionni Fox has served as a mentor, or "auntie," to many youth going through the passage rites.. UNDER THE HUSK is a personal story of a traditional practice challenging young girls spiritually, mentally, emotionally, and physically, shaping the women they become.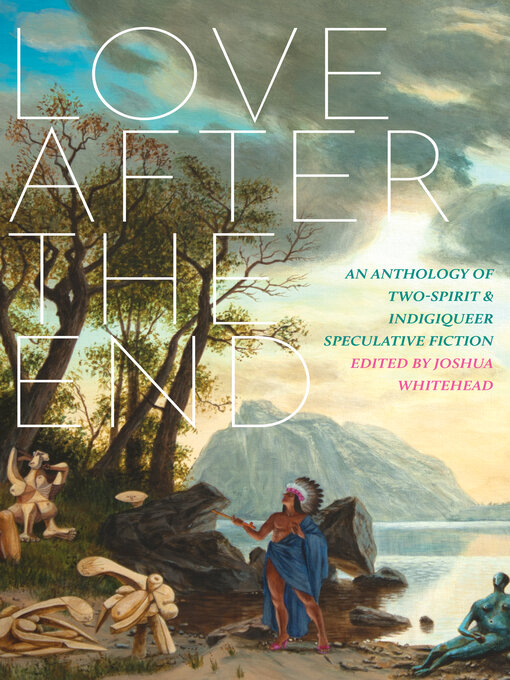 Love After the End
Joshua Whitehead
A bold and breathtaking anthology of queer Indigenous speculative fiction, edited by the author of Jonny Appleseed. This exciting and groundbreaking fiction anthology showcases a number of new and emerging 2SQ (Two-Spirit and queer) Indigenous writers from across Turtle Island. These visionary authors show how queer Indigenous communities can bloom and thrive through utopian narratives that detail the vivacity and strength of 2SQness throughout its plight in the maw of settler colonialism's histories. Here, readers will discover bioengineered AI rats, transplanted trees in space, the rise of a 2SQ resistance camp, a primer on how to survive Indigiqueerly, virtual reality applications, mother ships at sea, and the very bending of space-time continuums queered through NDN time. Love after the End demonstrates the imaginatively queer Two-Spirit futurisms we have all been dreaming of since 1492.
First Daughter and the Black Snake
Keri Pickett
Winona LaDuke focuses on Enbridge's pipelines for fracked oil, it's dangers and how the shale oil boom is adversely affecting Indian Country. She gathers musicians, young people and native leadership, puts them on horses, organizes in northern Minnesota lake communities and creates a movement.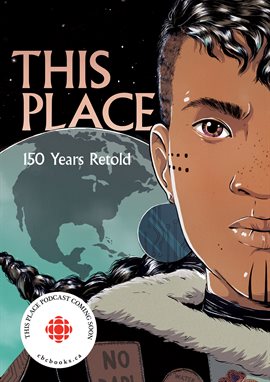 This Place: 150 Years Retold
Portage & Main Press
Explore the past 150 years through the eyes of Indigenous creators in this groundbreaking graphic novel anthology. Beautifully illustrated, these stories are an emotional and enlightening journey through Indigenous wonderworks, psychic battles, and time travel. See how Indigenous peoples have survived a post-apocalyptic world since Contact. This is one of the 200 exceptional projects funded through the Canada Council for the Arts' New Chapter initiative. With this $35M initiative, the Council supports the creation and sharing of the arts in communities across Canada.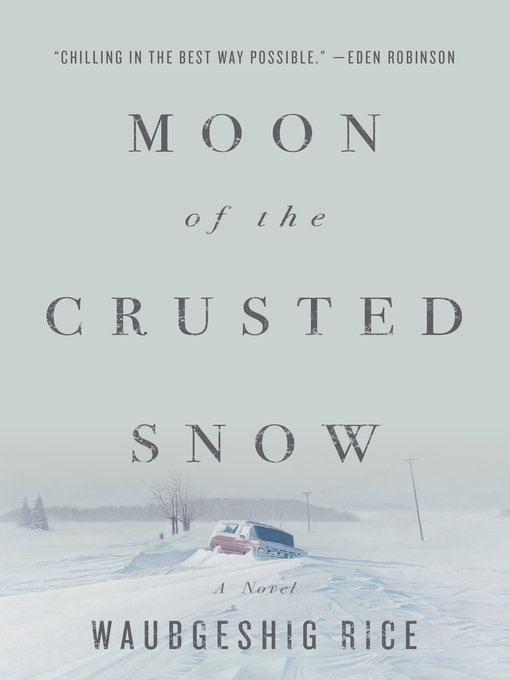 Moon of the Crusted Snow: a novel
Waubegshig Rice
A daring post-apocalyptic novel from a powerful rising literary voice. With winter looming, a small northern Anishinaabe community goes dark. Cut off, people become passive and confused. Panic builds as the food supply dwindles. While the band council and a pocket of community members struggle to maintain order, an unexpected visitor arrives, escaping the crumbling society to the south. Soon after, others follow. The community leadership loses its grip on power as the visitors manipulate the tired and hungry to take control of the reserve. Tensions rise and, as the months pass, so does the death toll due to sickness and despair. Frustrated by the building chaos, a group of young friends and their families turn to the land and Anishinaabe tradition in hopes of helping their community thrive again. Guided through the chaos by an unlikely leader named Evan Whitesky, they endeavor to restore order while grappling with a grave decision. Blending action and allegory, Moon of the Crusted Snow upends our expectations. Out of catastrophe comes resilience. And as one society collapses, another is reborn.
Moonshot: the indigenous comics collection. Volume 1
Avani
Moonshot brings together dozens of creators from North America to contribute comic book stories showcasing the rich heritage and identity of indigenous storytelling.
What the eagle sees: Indigenous stories of rebellion and renewal
Eldon Yellowhorn and Kathy Lowinger
Indigenous people across Turtle Island have been faced with disease, war, broken promises, and forced assimilation. Despite crushing losses and insurmountable challenges, they formed new nations from the remnants of old ones, they adopted new ideas and built on them, they fought back, they kept their cultures alive, and they survived. Key events in Indigenous history with accounts of the people, places, and events that have mattered from the 12th century to present day are told from a vastly under-represented perspective--an Indigenous viewpoint.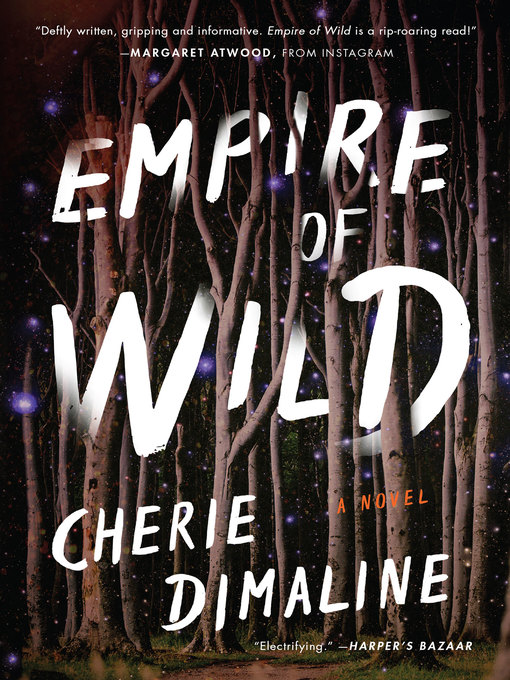 Empire of the wild: a novel
Cherie Dimaline
A story inspired by the Canadian Métis legend of the Rogarou finds a woman reconnecting with her heritage when her missing husband reappears in the form of a charismatic preacher who does not recognize her.
A Mind Spread Out on the Ground
Alicia Elliott
The Mohawk phrase for depression can be roughly translated to 'a mind spread out on the ground.' In this urgent and visceral work, Alicia Elliott explores how apt a description that is for the ongoing effects of personal, intergenerational, and colonial traumas she and so many Native people have experienced. Elliott's deeply personal writing details a life spent between Indigenous and white communities, a divide reflected in her own family, and engages with such wide-ranging topics as race, parenthood, love, art, mental illness, poverty, sexual assault, gentrification, and representation. Throughout, she makes connections both large and small between the past and the present, the personal and political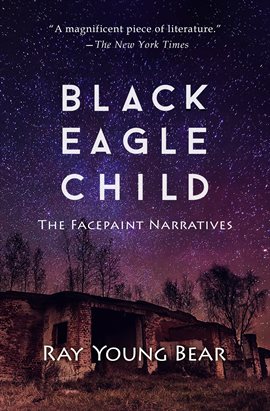 Black Eagle Child
Ray Young Bear
Mixing prose and poetry, ancient traditions and modern sensibilities, this brilliant, profane, and poignant coming-of-age story is a masterpiece of Native American literature. Deftly crossing genre boundaries and weaving together a multitude of tones and images-from grief to humor, grape Jell-O to supernatural strobe lights-it is also an unforgettable portrait of what it means to be a Native American in the modern world.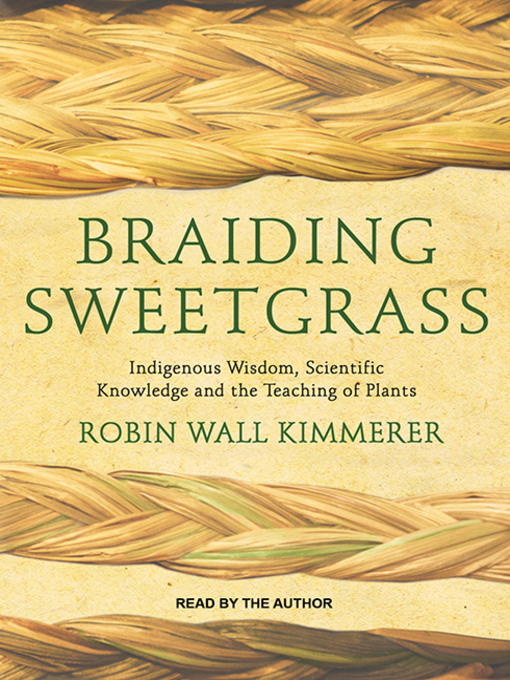 Braiding Sweetgrass
Robin Wall Kimmerer
An inspired weaving of indigenous knowledge, plant science, and personal narrative from a distinguished professor of science and a Native American whose previous book, Gathering Moss, was awarded the John Burroughs Medal for outstanding nature writing. As a botanist and professor of plant ecology, Robin Wall Kimmerer has spent a career learning how to ask questions of nature using the tools of science. As a Potawatomi woman, she learned from elders, family, and history that the Potawatomi, as well as a majority of other cultures indigenous to this land, consider plants and animals to be our oldest teachers. In Braiding Sweetgrass, Kimmerer brings these two lenses of knowing together to reveal what it means to see humans as "the younger brothers of creation." As she explores these themes she circles toward a central argument: the awakening of a wider ecological consciousness requires the acknowledgement and celebration of our reciprocal relationship with the world. Once we begin to listen for the languages of other beings, we can begin to understand the innumerable life-giving gifts the world provides us and learn to offer our thanks, our care, and our own gifts in return." "As a leading researcher in the field of biology, Robin Wall Kimmerer understands the delicate state of our world. But as an active member of the Potawatomi nation, she senses and relates to the world through a way of knowing far older than any science. In Braiding Sweetgrass, she intertwines these two modes of awarenessthe analytic and the emotional, the scientific and the culturalto ultimately reveal a path toward healing the rift that grows between people and nature. The woven essays that construct this book bring people back into conversation with all that is green and growing; a universe that never stopped speaking to us, even when we forgot how to listen.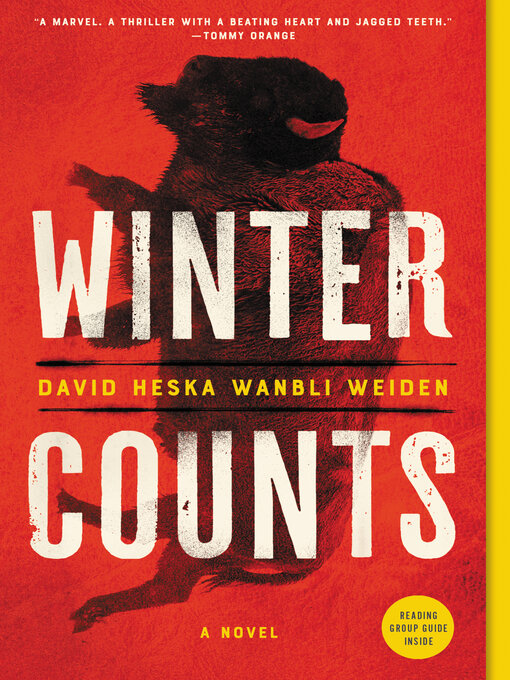 Winter counts
David Heska Wanbli Weiden
A vigilante enforcer on South Dakota's Rosebud Indian Reservation enlists the help of his ex to investigate the activities of an expanding drug cartel, while a new tribal council initiative raises controversial questions.
New Native Kitchen : Celebrating Modern Recipes of the American Indian
Freddie Bitsoie, James O. Fraioli, Quentin Bacon, and Gabriella Trujillo
Modern Indigenous cuisine from the renowned Native foods educator and former chef of Mitsitam Native Foods Café at the Smithsonian's National Museum of the American Indian.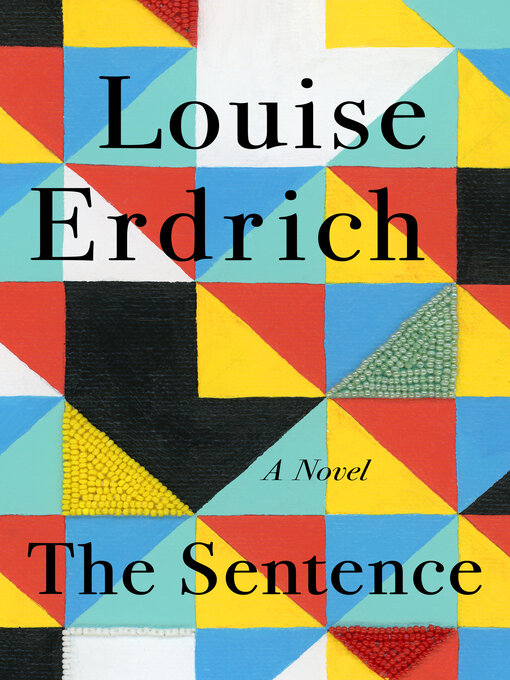 The Sentence
Louise Erdrich
Louise Erdrich's latest novel, The Sentence, asks what we owe to the living, the dead, to the reader and to the book. A small independent bookstore in Minneapolis is haunted from November 2019 to November 2020 by the store's most annoying customer. Flora dies on All Souls' Day, but she simply won't leave the store. Tookie, who has landed a job selling books after years of incarceration that she survived by reading "with murderous attention," must solve the mystery of this haunting while at the same time trying to understand all that occurs in Minneapolis during a year of grief, astonishment, isolation, and furious reckoning.
Girl Gone Missing
Marcie R. Rendon
Her name is Renee Blackbear, but what most people call the 19-year-old Ojibwe woman is Cash. She lived all her life in Fargo, sister city to Minnesotas Moorhead, just downriver from the Cities. She has one friend, the sheriff Wheaton. He pulled her from her mothers wrecked car when she was three. Since then, Cash navigated through foster homes, and at 13 was working farms, driving truck. Wheaton wants her to take hold of her life, signs her up for college. She gets an education there at Moorhead State all right: sees that people talk a lot but mostly about nothing, not like the men in the fields shes known all her life who hold the rich topsoil in their hands, talk fertilizer and weather and prices on the Grain Exchange. In between classes and hauling beets, drinking beer and shooting pool, a man who claims hes her brother shows up, and she begins to dream the Cities and blonde Scandinavian girls calling for help.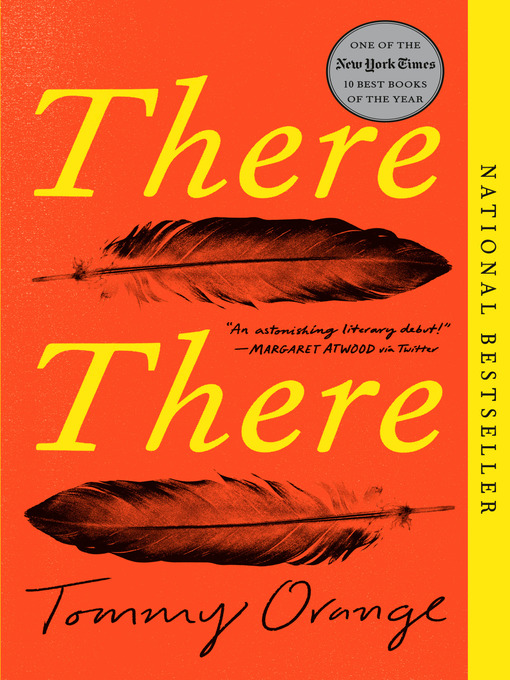 There there
Tommy Orange
Jacquie Red Feather is newly sober and trying to make it back to the family she left behind in shame in Oakland. Dene Oxendene is pulling his life together after his uncle's death and has come to work the powwow and to honor his uncle's memory. Edwin Black has come to find his true father. Thomas Frank has come to drum the Grand Entry. Opal Viola Victoria Bear Shield has come to watch her nephew Orvil Red Feather; Orvil has taught himself Indian dance through YouTube videos, and he has come to the Big Oakland Powwow to dance in public for the very first time. Tony Loneman is a young Native American boy whose future seems destined to be as bleak as his past, and he has come to the Powwow with darker intentions.